Why go it alone?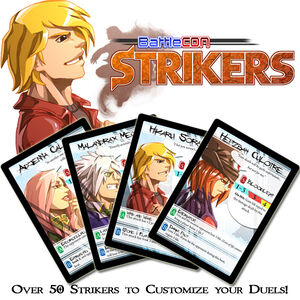 Strikers is a small-box expansion to BattleCON that replaces Special Actions and provides new combinations of tactics. Support your character with your second-string fighter, or use Strikers in Tag Team play to call in your tag-partner for a quick assist.
Strikers contains all the characters from both BattleCon games, and even some future characters we have yet to meet on the battlefield! It is a true expansion, so you will need either the original BattleCON: War of Indines or the new BattleCON: Devastation of Indines game to use it.
Characters included in Strikers
Edit
Strikers includes all characters from both War of Indines and Devastation of Indines, as well as some new characters never seen before.
Some characters from Fate also made their first appearances as Strikers.
And other characters that haven't appeared on BattleCON yet.
There are also seven Promo Strikers, four of them being part of Legacy character kit.
With the remastered version of War of Indines, 16 new strikers will be added, even though they are not part of the Strikers Minibox expansion.
Ad blocker interference detected!
Wikia is a free-to-use site that makes money from advertising. We have a modified experience for viewers using ad blockers

Wikia is not accessible if you've made further modifications. Remove the custom ad blocker rule(s) and the page will load as expected.