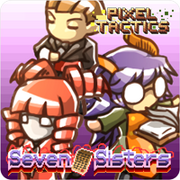 "Just sign on the line, and ultimate power is yours. No strings attached, I promise…" – Candide Malephaise
Pixel Tactics: Seven Sisters is a mini-expansion for Pixel Tactics that features 8 cards for use in customizing your Pixel Tactics deck. These eight cards contain the seven diabolic sisters featured in the boss rush dungeon "The Well of Souls " in BattleCON: Devastation , as well as their butler.
Characters in Pixel Tactics: Seven Sisters

Edit
Contains these cards:
Ad blocker interference detected!
Wikia is a free-to-use site that makes money from advertising. We have a modified experience for viewers using ad blockers

Wikia is not accessible if you've made further modifications. Remove the custom ad blocker rule(s) and the page will load as expected.